Words From Our Criminal Defense Attorney David Givot
You are not alone. We are here to help.
We imagine you are worried, scared, and unsure of how you should choose your criminal defense lawyer. To help everyone charged with a crime make an educated and informed decision on defending themselves, we follow four simple guiding principles:
Honestly answer each client's questions;
Give every client a fair analysis of their case without fear or scare tactics;
Help every client understand their legal options and strategy for defending their case;
Tell them what they need to know, not necessarily what you want to hear.
If you decide to hire us as your criminal lawyer, we will explore every legal possibility to help you and try to uncover facts or factual perspectives to win your freedom or reduce your punishment. No one should be sent to jail or marked a criminal for their rest of their life because one police officer says so. No prosecutor should unfairly punish someone more seriously than the harm they have caused.
We Can Help
Fighting a criminal case takes hard work because prosecutors generally do not file cases with weak facts. In order to show the prosecutor that you deserve a better and fairer result, the following things must be considered and prepared:
Think of methods and develop tactics to challenge the prosecutor's burden to show you are guilty. The prosecutor has to be able to prove what you did with facts, not guesswork or hunches.
Helping you show the prosecutor additional facts that credibly challenge the investigation performed by the police officer or any facts presented by witnesses.
Perform careful legal research to argue or write legal motions to challenge incorrect use of the law by the judge or prosecutor.
If necessary, work with a private investigator to develop facts that show weaknesses in the police investigation.
Carefully develop a factual and thematic defense of your case to show the prosecutor you were not guilty of the charged crime to obtain either a dismissal of the case or reduction in punishment.
Even though we have encountered hundreds of criminal cases as a former prosecutor, no two cases are the same. We recognize that your case is unique and personal to you. Your case has special facts and circumstances that require time and legal experience to unravel and mold into a defense. We will force the prosecution to be honest with you and show you all their evidence and prove you are guilty beyond a reasonable doubt.
Understandably, being charged with a crime or having a friend or family member charged with a crime is a difficult and stressful time. If you would like to discuss how we can possibly help you, please call us at 562-304-5121 to schedule a complimentary consultation and learn more about fighting for your freedom, reputation and future.
Here at Long Beach Criminal Lawyer are sure you will find us honest, compassionate and knowledgeable advocate for your rights and future.
About Our Long Beach Criminal Defense Attorney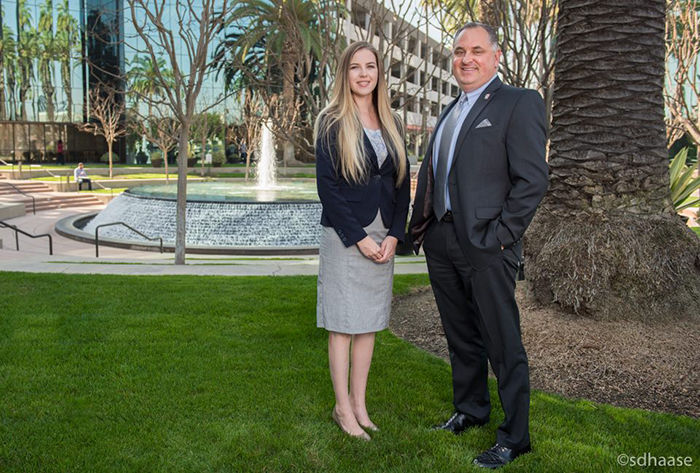 Long Beach Criminal Defense Lawyers, David Givot and Ashlie Brillault, have worked hard to build a collective reputation for aggressive, compassionate, and comprehensive criminal defense in Long Beach and beyond.
In court, individually and as a team, Mr. Givot and Ms. Brillault continue to build and maintain positive relationships with clerks, prosecutors, and judges in courtrooms throughout Southern California. They have come to be respected for being aggressive, yet humble. Mr. Givot and Ms. Brillault work hard to be known as tough defense advocates who handle every case with professionalism and integrity. 
David Givot worked his way through college and beyond as a Paramedic responding to 911 calls. He earned his law degree from Abraham Lincoln University School of Law and passed the California Bar Exam on his first attempt.
Ashlie Brillault traded a blossoming career outside the law for the rigors of the University of Denver's Sturm College of Law and a career defending the rights of good people facing tough situations. She, too, passed the California Bar Exam on the first attempt.
For nearly a decade, the firms growing success can be ascribed to David's ability to react quickly and remain calm and focused under substantial stress and high pressure (skills he no doubt established making life & death decisions for so many years before) and Ashlie's methodical, logical and, when necessary, very creative approach to problem-solving.

They have made it their business to aggressively defend clients facing charges as minor as simple infractions to those as major as vehicular homicide and most everything in between.
Most importantly, they have no reservations about taking cases all the way to jury trial and local prosecuting agencies know it.
Facts and odds of winning notwithstanding, the goal for every client and every case is to secure the best result possible by taking advantage of all available resources.
The human touch sets them apart. Clients and their families are afforded a well-needed sense of relief by going through a very difficult and scary experience together with the gentle guidance and support of a team they can actually talk to when they need them.